Terra Moyo International School has become the newest school in Kenya to be awarded the prestigious Green Flag. Sustainability initiatives form part of the school's soul, with the name 'Terra' derived from Latin to mean 'earth' and 'Moyo' is a Swahili word meaning 'heart'.
The school's main focus is on biodiversity protection and pollution control. Situated next to the famous Karura forest (One of the main legacies of Africa's first female Nobel Prize winner – Wangari Maathai), the school radiates the same vision as hope that the students can walk in the footsteps of one of the greatest environmentalists of our time.
Journey to Green Flag
Having been founded on a strong foundation of sustainability, Terra Moyo International School prides itself as the only school in Kenya whose education is fully focused on sustainability. Some of the unique initiatives that have informed the acquisition of the Green Flag include:
Classes and other buildings
Building structures within the school are not permanently constructed. This has been done to ensure minimum disturbance of the soil and the living organisms beneath. Furthermore, classes and other buildings have open windows to maximize on the use of solar energy for lighting.  In an approach to increase students' understanding of different local tree species, all classes have been named using different names of trees.
Biodiversity
Located next to a forest ecosystem, the school has introduced a number of measures where students can appreciate the need for conservation. Through a pact with the Kenya Forest Service, each class spends one lesson in the forest. This has helped the students to find meaning in the beauty of forest ecosystems and therefore the need to conserve nature. The school has also established a bird feeding area, which attracts different types of birds from the forest.
In a move to cause little disturbance on soil micro-biota and increase water infiltration into the surface, walking pathways have not been tarmacked.
Currently, the school has created a small garden that has planted vegetables in a bid to increase the consumption of organic diets.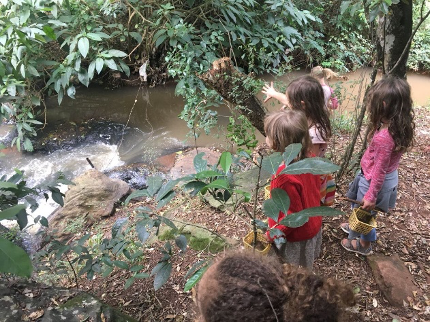 Pollution
Terra Moyo International School has a policy against the use of plastic water bottles. Water in classes is served using recycled buckets that act as water dispensers.
On paper pollution, printing is kept on minimal. The school has also started a process of making new paper from old discarded papers. This process has ensured that there is no paper that ends up as waste.
To reduce purchasing of paints, the school has forged a partnership with local restaurants that supply them with flowers. Upon receiving the flowers, students, through the help of teachers squeeze out color from the flowers, and use the final product for painting.
Within the playing ground, the school utilizes fallen branches from the trees for making climbing branches. Flip flops collected from homes are then used as a soft ground safety landing zone for students while playing.
Old discarded tyres are collected, modified and used as waste bins.
https://koee.org/wp-content/uploads/2023/06/217BCEAD-65ED-4624-804B-D0081E009797.jpg
1080
1080
developer
https://koee.org/wp-content/uploads/2019/09/download.jpg
developer
2023-06-30 13:37:58
2023-06-30 13:37:58
TERRA MOYO INTERNATIONAL SCHOOL