KOEE
By Ojuka Vincent
Education for Sustainable Development Department
Kenya Organization for Environmental Education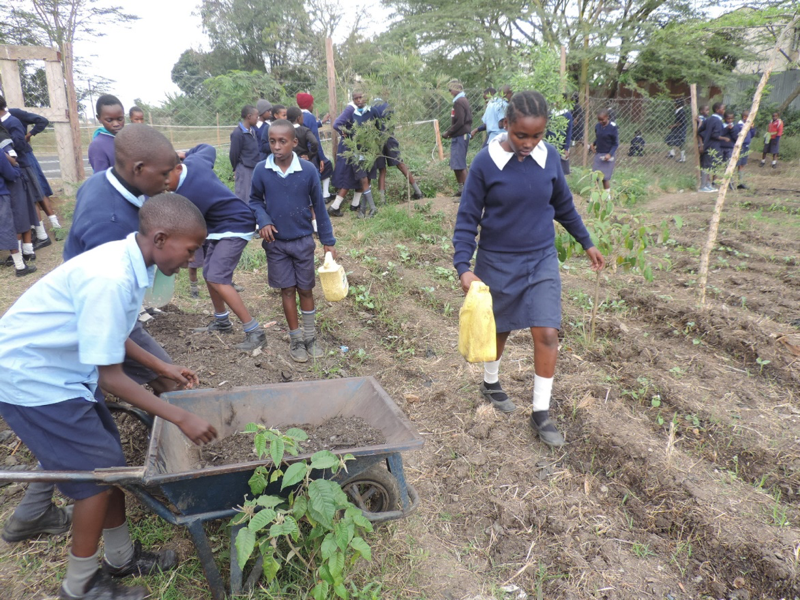 Education is the greatest tool we can use to change peoples' attitudes and behaviour especially in the face of unprecedented environmental challenges globally. One effective strategy to ensure this is through education for sustainable development (ESD). ESD is a vital mechanism for communicating social, economic and environmental issues to people to trigger long lasting transformations and to take up sustainable practices. This education is crucial to learners who are the future generation and whose actions today have an impact on both their and future generations. Teaching young people about their role in sustainable development ensures that they grow up being conscious of their activities not to harm nature.
And for ESD to be effective, its mode of delivery is key. Teaching on ESD can take both interdisciplinary and multidisciplinary approaches. In interdisciplinary, the issues are taught in isolation of other subjects while in multidisciplinary, it is coverd alongside topics in the subjects that it relates to. And for you to ensure that any teaching and learning program is in line with the principles of ESD, the following need to be observed;
First, the program should be student oriented.This calls for learning actvities that give chance for students to develop knowledge, competencies, attitudes and values relating to sustainability isssues which in turn allow students to establish links between actions; the issues and resulting into their own tasks to sustainabilty.Some of the questions you can consider here includes; does the learning activity match students cognitive level? Is the learning activity recognizable, realistic and meaningful for your students?
The education programme should also be value oriented and induce critical thinking as it aims at provoking leaners to develop solutions for environmental problems around them. In order to learn, the students need a safe learning environment in which they can work together to build values. For this a teacher can self-ask these questions; does the learning activity let your students exchange and reflect on substantiated viewpoints? Do your learning process let students articulate their values and attitudes or does the learning let the student come up with solutions to moral dilemmas?
Eduaction for sustainable developeent encourages participation.This takes place when students engage in sustainability issues by takiung actions themeslves and by feeling and demonstrating a responsibilty for their own actions.Questions you can use to evaluate this include; does the learning activity let your students work with people in and out of the school? Does the learning allow students to engage in out of school sustainability issues actively?
Principle of action oriented learning is key for training in education for sustainable development. This encourages learners to develop competencies that enable suatainable actions and being responsible for their doings. Guiding questions on this can include; can your students learn to act more sustainably within the learning activity itself? Can your students link the outcomes of learning to concrete actions?
As sustainable development issues are coupled with complexity, education for sustainable development rallies for systematic approach that is holistic. Learners should be made to think systematically and learn to recognise the complexity of issues and situatuions while understanding the relationships and synergies. Some of the questions to evaluate this include; Does your learning activity address complex issues relating to sustainable development? Can your stsudents cope with complexity of learning activity?
Finally, ESD inquires mindset. This teaches students to participate and equip them to take conscious action themselves that can be achieved by encouraging adoption of inquiring mindset and research. Key questions here are; do your students carry out research? Do your students go through research steps in the learning activity?
https://koee.org/wp-content/uploads/2020/01/Picture-1.png
600
800
developer
https://koee.org/wp-content/uploads/2019/09/download.jpg
developer
2020-01-21 00:18:53
2020-01-21 00:18:58
Teaching and Learning That Reflects Education for Sustainable Development